7. Product
The product page is the most important page of your shop. That is why we have already designed this page in such a way that little has to be done about it. Large quantities can be ordered for each variant that is available. Large bulk orders are therefore no problem at all for the B2B Product Page.
Show brand name in title
Enable this setting if you want to add the brand name of the product to the title.

Bulk variants
Enable this setting to activate bulk order variants. This allows visitors to set the numbers per variant themselves and to place all variants in the shopping cart with 1 click of a button.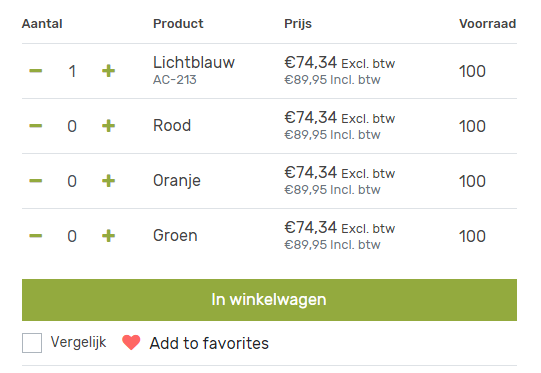 Show reviews
Enable reviews on the product page. When this setting is disabled, reviews will no longer be displayed across the entire store.

Show inventory
This setting allows you display your inventory status for products on the homepage and the collection page. The inventory will always be visible on the product page. This inventory setting only indicates whether a product is available and still in stock according to Lightspeed.

Show inventory level
Display the inventory level on the product page. The amount of products that still are in stock is suffixed to the message that indicates whether the product is in stock.
Shipping timer (18:00:00)
For stores that have a default "Ordered today, have it delivered tomorrow" shipping policy, we have developed a shipping timer. Here you can set the final time people can order for next day's shipment. Enter before what time people need to order to have their order delivered the next day.

Start shipping timer (8)
Enter at what time the shipping timer has to start. For example, if the shipping has to start at 08:00 AM in the morning, then enter "8".